18-in-1 stainless steel snowflakes multi-tool
Buy more save more! (95% customers choose to buy 5 or more)
100% Satisfaction Guaranteed
PayPal & Credit Card Payments Supported
WITH THIS TOOL LIFE WILL BE FULL OF CREATIVITY
Saker 18-in-1 Snowflake multi-tool is an interesting multifunctional tool.It can solve some trivial small problems in your life so that you no longer worry.
When you drink beer, you don't have to think about the bottle opener. Because it will solve it for you.
A NICE HOLIDAY GIFT HALLOWEEN AND CHRISTMAS
Your family and friends will be happy.
A nice gift for friends. The unique snowflake shape can be used as a pendant or Christmas tree decoration.
Saker 18-in-1 Snowflake multi-tool has multiple uses and functions are for your reference, please use your imagination.
Open wine bottle
As hardware tools
Hang it around your neck as a necklace
Decorate christmas tree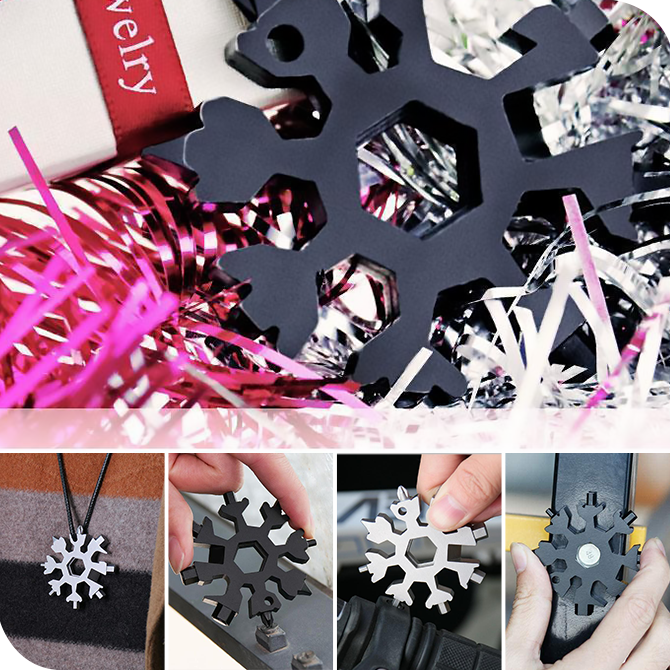 Our multi-tool features incredible 18 tools, flathead screwdrivers, # 3 and # 2 Phillips screwdrivers, 4, 5 and 6mm allen screws, 1/4 box cutter in end keys 7, 8, 10, 11, 12, 13 and 14 mm end key.
Specification:
Material: Stainless steel
Size: 6.6 * 6.6 cm
Color: Black, Silver, Multicolor
Weight: 86g
Package Includes:
1 x 18-in-1 stainless steel snowflakes multi-tool